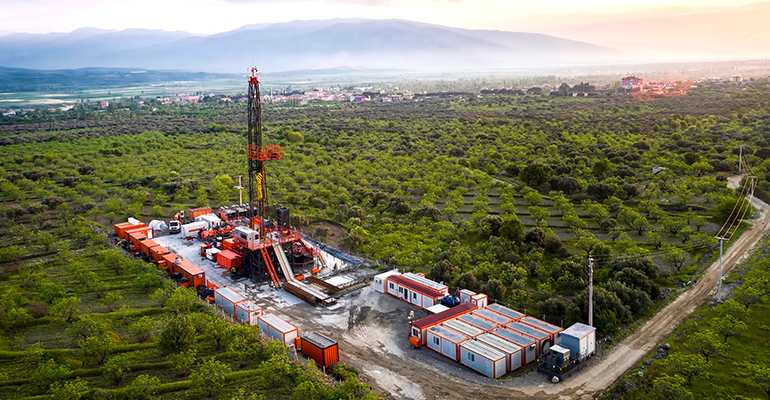 We design and manufacture mobile drilling rigs of up to 225-tons max. hook load capacity. The design and manufacture of our mobile drilling rigs follow technical standards in related API.

Our rigs are designed to provide clients with class-leading economy and versatility. They rely on robust mechanical controls that provide unmatched reliability and operational ease, while the rigs' easy erection, assembly, disassembly design and small footprint enables quick and cost-effective mobilization.

The drilling rig consists of chassis assembly, power transmission assembly, hydraulic system assembly, pneumatic system assembly, control system assembly, high-pressure manifold assembly, drawworks assembly, traveling and hoisting system assembly, rig accessories, electric system assembly, drill floor assembly, mast assembly etc. For a truck-mounted drilling rig, all systems are mounted on a high-power truck except that the circulation system and auxiliary system are configured separately. So the complete set of drilling rig has excellent mobile capacity as well as drilling function. Our mobile drilling rigs are a versatile and powerful drilling machines that occupies less area than conventional drilling rigs while retaining all the equipment.

Designed and developed in the field and under the most demanding conditions, our truck/trailer mounted drilling rig series has been optimized with useful options such as the following:

• Heavy-duty substructure (higher setback capacity, extended driller's platform)
• Slingshot substructure (faster erection time, simpler mobilization)
• Double-drum configuration
• Carrier-mounted (fully-mobile) configuration
• BOP handling system
• Extensive HSE features
• Hydraulic catwalk
• Petrotek's proprietary solid-control-system SCADA automation
• Winterization package
• Masts, Substructures, and Crown Blocks conformed to API 4F
• Drawworks conformed to API 7K


All major components utilized in our rigs are supplied from a select list of world-renowned, specialty manufacturers that are the best in their class, including Gardner Denver, NOV, Upetrom, M/D Totco, CAT and Allison.